Ethical Transparency: Going Above and Beyond Corporate Standards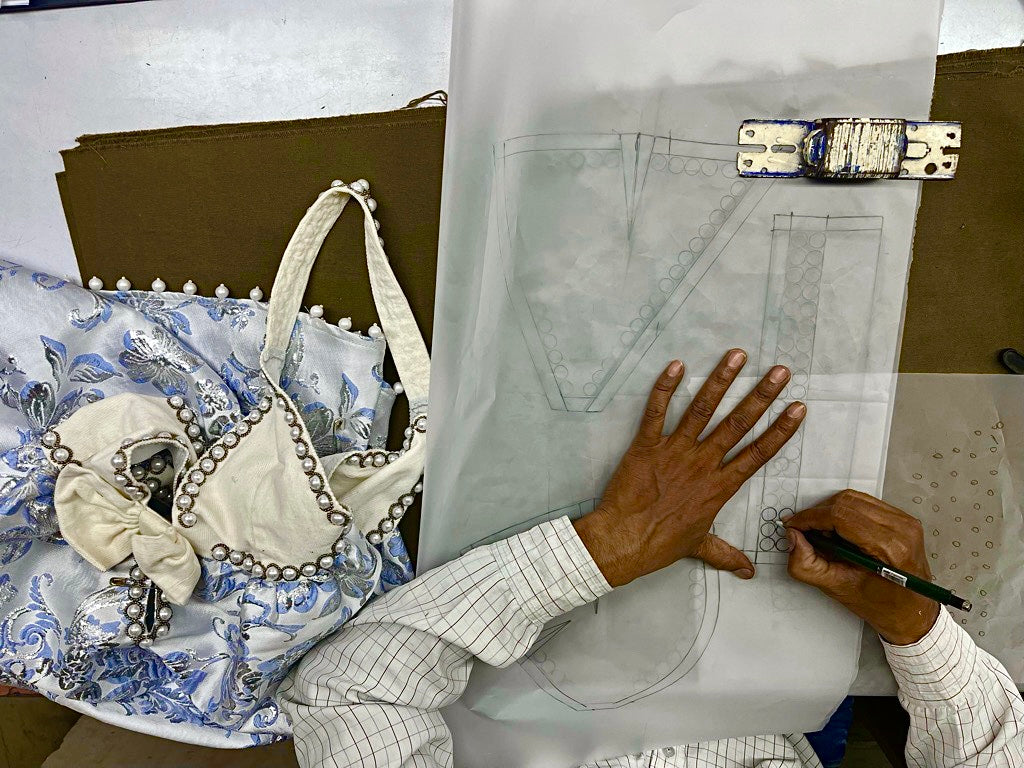 With the rising need for conscious consumption, things like clear transparency and ethics allow consumers to be sure they're making the right choice. One of the key things that makes Ollari stand out among other brands is our intentional dedication to being open, honest, and ethical in all that we do.
Meagan Ollari, our founder and designer, allowed me some insight into how she upholds rigorous standards in order to bring you quality pieces we can be proud of. One of the many things that makes Ollari shine bright amongst it's contenders is it's richness in luxurious quality, culture, and identity.
Maya: As an essential contributor to Ollari's identity, what makes Ollari special to you,  and how do you channel that in what you do not only career-wise, but also in day-to-day life?  
Meagan: Ollari for me, symbolizes courage, individuality and perseverance. It is a reminder to myself and to others that with tenacity, hardwork, persistence and passion, anything is possible. Creating for Ollari is an organic outlet for me to express my creativity and vision curiously and playfully, with an open-minded approach to travel, new experiences and opulent cultures.  Curiosity and acceptance is in our roots and I take pride in having such a pillars to keep inspired. 
Maya: Why is transparency important to you and in what ways does Ollari demonstrate this perhaps better than others?
Meagan: Transparency, for me, is key to any relationship-an absolute non-negotiable. Whether between human and product or human to human, being able to not only trust that relationship but to have a clear understanding of the inner workings within that product or relationship is essential. I think we are seeing that especially now. 
Ollari was built on integrity, the very reason I uprooted my life from New York to New Delhi was to maintain that integrity by being 100% fully present, aware, and in control of the sourcing, sampling, and producing. I am physically in the fabric markets, speaking with suppliers, and heading my team from our factory on the floor producing samples and production. It doesn't get any more interactive and hands-on than that. We work with ONLY compliant factories and fabric manufacturers that enforce and uphold strict labor laws, fair trade and can provide traceability records. 
Maya: In tandem with transparency, ethical treatment and eco-friendly/sustainable sourcing are also factors today's consumers look for. In what ways do Ollari's values of empowerment and conscious luxury apply to these categories? 
Meagan: I try to create conscious luxury through mindful design, sourcing and manufacturing. I source with not only aesthetics in mind but more importantly,  functionality and longevity. I am in the markets weekly- sourcing and researching the right fabrics, trims and material for our collections. That "boots on the ground" way of working that involves being at the source of where my product is created, is why we can create such a transparent eco-system of manufacturing. What makes Ollari unique is the craftsmanship and special details we add into our collections. We work directly with extremely talented Indian Artisans and our work allows them to keep their ancestral forms of hand-beading and embroidery techniques alive and lucrative for their villages and communities. We also work with small production runs and do not produce anything that will not be used for our customers. All that is made is made to order.  Lastly, we use scrap fabric left over from our production to make little drawstring bags that the customer can reuse again and again! They each get one with every purchase!
Maya: Many often forget that sustainability not only encapsules environmental consciousness but also social responsibility via ethics and societal interaction. Your previous answer is a great demonstration of the care that we take to uphold our communities, while supporting our environment and local economies.
Ollari empowers its women to feel beautiful and sophisticated. How does Ollari empower its community?
Meagan: We empower our community by doing several give-aways and donation based sales campaigns every year. We also work with a local charity here in India, where we donate a portion of sales to support them financially with education, productive hobbies and personal hygiene and nutrition. I also am a passionate mentor, where I guide, uplift and train young creatives at the high-school and collegiate levels. I find joy in passing on knowledge and experience to those who are interested in a career in fashion. I understand how difficult it is to get good experience in this industry so anything I can do to support emerging talent really fills my soul. 
Maya: Every great designer has inspirations. A visual inspiration that is beautifully demonstrated by Ollari is rich worldly culture.What is/are some personal inspirations (people, experiences, etc.) that you hold close while creating?
Meagan: Many things inspire me: people, cultures, experiences, travel etc. The roots of my inspiration really come from the feeling of excitement within. I won't create anything I wouldn't personally wear, and I use this as a pillar when creating and designing whenever inspiration strikes. 
My biggest inspirations are myself and women like me. I know there are women out there who embrace color, culture and novelty just as much as I do and dress to be heard and seen. I also know there are women out there who crave that attention to detail and craftsmanship. My solo travels around the world also have been a huge source o