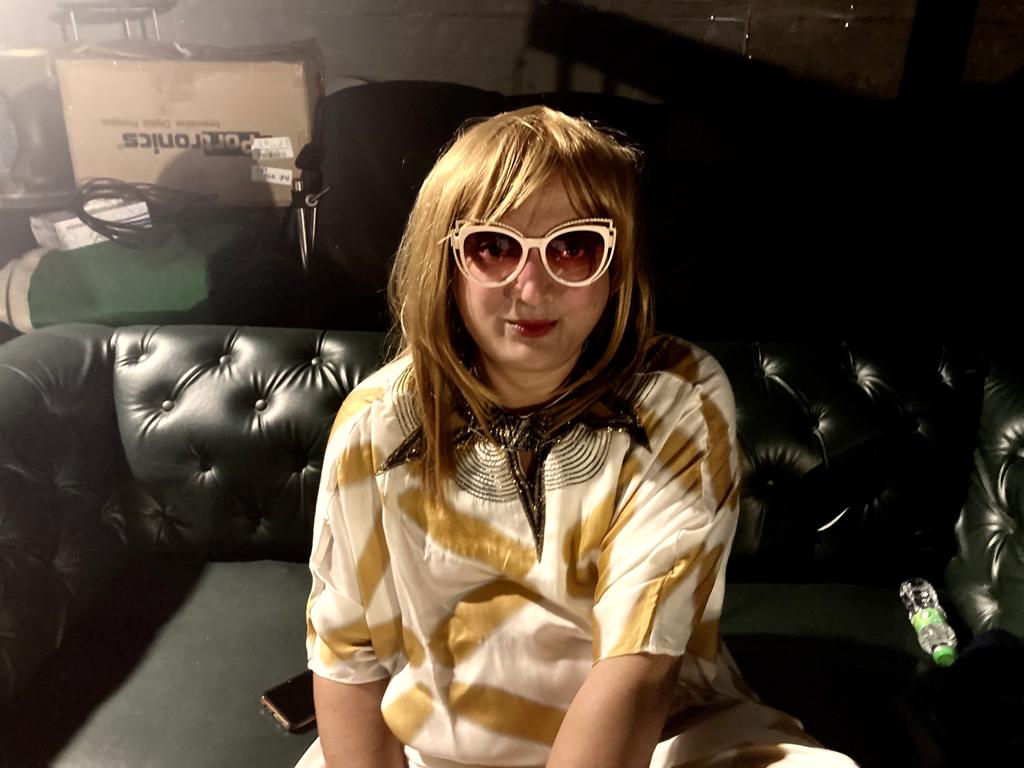 We had the opportunity to interview one of our founder's closest friends- Pupps and from this, have gained incredible insight and inspiration of how to be true to yourself and empower others to do the same.
We even got a little background on Meagan and Pupp's friendship: "Pupps and I met at my 31st birthday party here in Delhi, India in 2019. We were introduced by a mutal friend and connected instantly. Over the years, Pupps and I have grown to be great friends- they even introduced my husband and I. I can confidently say that Pupps is one of my strongest and most inspirational friends with such zest for life. I am proud to have such a strong of a human being to call my dear friend. I hope you become as inspired with their words and story as much as we are."
We recognize that everyone expresses themselves in a different way. Some through art, some through their clothes, or even how they treat themselves and others.
Maya: How do you feel most comfortable expressing who you are, in other words, how do you like to show the world who Pupps is?
 Pupps: I don't think I need to prove any point [with]  my expressions. I think my daily life, my daily existential crisis, my behavior, and my demeanor are [how I express myself] which is very natural and spontaneous- that's how the world perceives me and vice versa. I am just too cool for too many things. From the time I step out from home for grocery shopping, or evening walks, or to a party, everyone figures out who I am. I am friendly, talkative, a fellow traveler and love to go out in social scenes. I love to write about lifestyle and I am starting my own start-up.
We often forget how our words and actions are just as much of a representation of who we are as our interests. This was such a great reminder to live intentionally, but we know that living a life staying true to who you are is often met with huge challenges and obstacles. 
Maya: What would you say to someone who is in an environment or position where they feel hesitant to do so?
Pupps:I think I have just been lucky. My parents always encouraged me and never stopped me from doing anything, and it's all because they really loved me. They were products [of the 1950's] and they didn't go to any mind-broadening school. They still accepted the way I am because their love for me was genuine. I really didn't have to face any challenges in life in that manner. They were very protective. Love makes the world go round for sure. Also its my luck like I said- The teacher I hated in school [got] transferred, the friend I fought with had his class section changed etc etc. There are so many events. My advice is,  if love and luck is not in your favour, please be financially independent soon, move to a city and live your life…I think people are slowly opening up and accepting. 
"Love makes the world go round for sure"
This is such a great point, some of us are in more affirming and encouraging environments than others, but we all are trying to navigate the same task of finding who we are and standing strong in that- and what better way to learn and grow than to start somewhere new! Being your most authentic self is a challenge, but it comes with great rewards. 
Maya: What has been one of the most rewarding things about living a life true to yourself and your identity?
Pupps: I think my answer would be the same [as] that of the previous one. My parents and my friends have been [my prized possessions ]- they have been super supportive and caring. I couldn't be who I am today without them. [To me,] it's very important to have your parents back when you grow up- [but]  if you dont its ok. Don't be scared [if] you need to take another path. Many of my friends didn't have their parents' approval initially, but things became ok after a while. […] You need to find happiness in yourselves  [and…] live your life to the fullest. [There's] just one life to live and absolutely no regrets. You need to work towards your happiness and never give up. Like Madonna says in Justify My Love, " Poor is the man whose pleasure depends on the permission of another".
"Don't be scared to take another path..."
And that quote rings true- the rewards and good fortune that come from standing strong in your identity are numerous and far reaching, but focusing on the approval of others will most definitely hinder your ability to see these things. It also prevents you from being able to see those around you that are inspiring you to find and nurture yourself. 
Maya: Who is someone who is an inspiration to you? What do you do with this inspiration or how do you channel this in the way you see the world?
Pupps: I am an ardent fan of Angela Davis. She had such an incredible life advocating for civil and human rights in [such an impactful] way. She is an American political activist, academic, and author. I really like her quotes and look up to her-  I dream of meeting her one day. She says, " We have to talk about liberating the mind as well as liberating society". I have been following her for a very long time and her voice has inspired many like me who are equally important, [in taking steps towards]  the legalization of LGBTQ rights in our country, [in order to] show society how liberal we can be and its proven as you can see our society in 2022. Everyone is an activist and that does not always mean you have to join the parade. I miss it almost every year but again my daily life is a pride parade. You know it, right!
"Everyone is an activist and that does not always mean you have to join the parade..."
And boy do we know it! Every day is a chance to show the world who you are, what you stand for, and what you believe in. Just as importantly, pride is not just a parade, or a month of rainbows, or a capitalistic campaign, pride is every day. Each day we must make the conscious choice and intentional effort to not only stand tall in our power, but support others in doing so also.