Mindful Mondays: How to Stay Motivated During Your Quarantine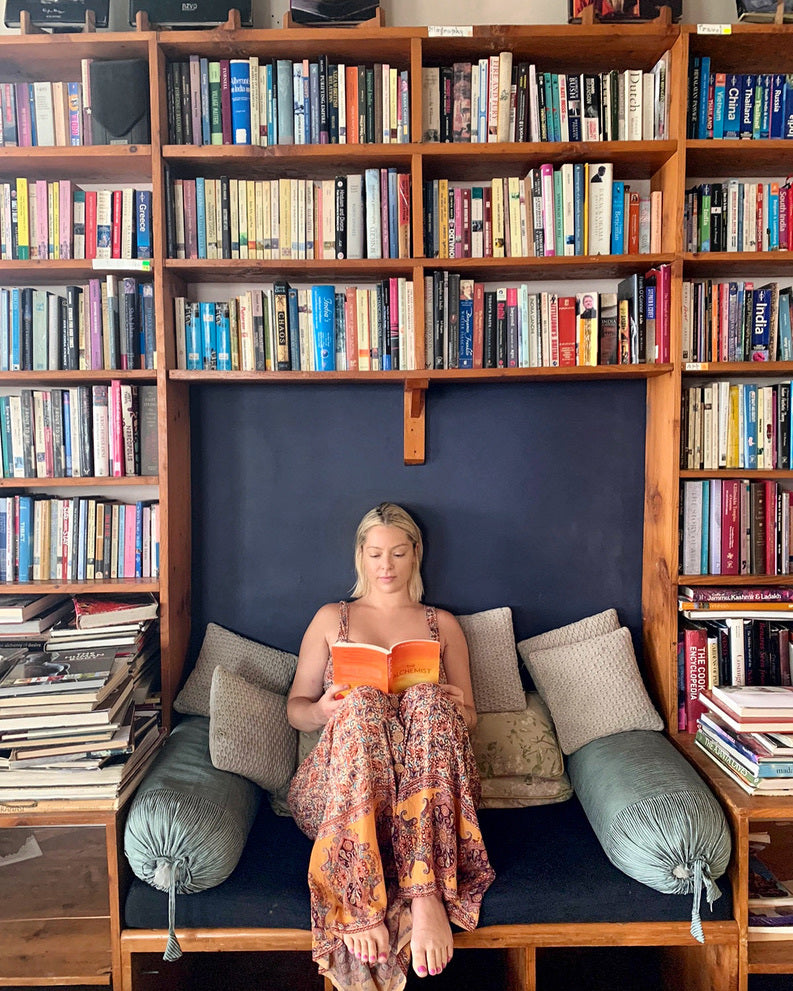 Quarantine has come with a mixed set of emotions and moods, as I'm sure this rings true for others . The past two months of lockdown here in New Delhi, India has made it particularly challenging— certainly having its ups and downs. With my family and majority of close friends 8,000 miles away, there's only so much FaceTime I can do to feel connected with those I love and miss the most.
I was prepared for the sacrifices that came along with moving my life to India for Ollari, but being isolated in quarantine on the other side of the world has seemingly put a lot into perspective. With fluctuating moods of optimism, motivation and inspiration one day and pessimism, fear and uncertainty the next, I try to sustain a strong mindset over anything else right now. I do just that by staying creative, focused and connected. Diving into personal and professional enrichment keeps my mindset positive and fluid.
I'm sure you're wondering how I've navigated through these bazaar times with such a mixed set of emotions and moods. Read on as I dive into what's been keeping me sane during the COVID-19 pandemic:
Strict daily schedule.
A good morning routine really sets the tone for my days of isolation. I try my best to maintain a steady schedule and waking up early allows me to move through the rest of the day efficiently and productively. This helps my mind adapt to the global situation without disrupting my usual work flow. My work with Ollari is the only reason that I'm in India, so ensuring that I continue to push through my daily commitments is exponentially crucial during my time in lockdown. 
I try not to overwhelm myself with too many expectations for the day, so I start out with a small manageable win by making my bed. This gives me a small sense of accomplishment first thing in the morning. I did this anyway pre-quarantine, but having to go from spending my days at my studio, factories, meetings and sourcing markets running from task to task to now living AND working in the same confined space is challenging. I knew that making the very best of it was the only way to keep me motivated.
It is so important for me to have an inspiring workspace in the vicinity of my home. If I'm not comfortable in the space I'm working in, it becomes challenging for me to really get anything done. I've blocked off a section in my flat where I spend my days working, allocating my small dining room table into a proper work-desk setup right in front of the window where the natural light energises my work and helps me sustain a creative and productive mindset throughout the work day. This keeps me motivated, inspired and comfortable during my days locked inside.
Consistent morning routine.
In the mornings, I like to jumpstart my day by making a warm cup of coffee with a dash of turmeric powder mixed in. After a few sips in I grab my journal, headphones and a good book and head outside to my terrace. Once there, I incorporate 45 minutes to an hour of meditation, reflective journaling and reading to jumpstart my day. I  prefer guided meditations through the free app Insight Timer before writing down three things that I'm grateful for. This ensures my headspace for the day is in a place of gratitude, positivity and mindfulness.
Next, I write down a personal daily Mantra. For example, this morning I woke up with anxiety about the future so my Mantra for the day was to accept and relax. Revisiting my daily Mantra when I'm feeling uneasy helps me to regain focus and calmness throughout the day. My morning preparation ends with a list of setting important goals and work tasks that I want to complete for the day. I ALWAYS write everything down— this is so imperative for me to tune into the tasks that I need to accomplish before I wrap up my day. If you don't already, I highly recommend a daily hand-written good old-fashioned "To-Do List".
Personal enrichment.
Knowledge is power, so maintaining a consistent reading and listening practice during lockdown is super important to me— especially now. I see this as a time where I can engage with a deeper sense of self-growth and absorption of new knowledge. I want to take full advantage of this period of recess in order to personally and professionally evolve and thrive. A few of the books keeping me company during social distancing are: 
Developing the Leader Within You by John C. Maxwell
Thinking Fast and Slow by Daniel Kahneman 
 Creativity, Unleashing Forces Within by Osho. 
My all-time favorite podcast for motivation and inspiration is How I Built This with Guy Raz.
Connect with loved ones back home.
WhatsApp and Zoom video calls with my family back home have been one of my saving graces during this time. To suit both time zones (India is 9 1/2 hours ahead of EST), I usually call my family during the evening to catch them first thing in the morning. I'm so grateful to have a means to communicate with them since I probably won't be making it home this summer for my bi-annual trip back to the states.
Art.
Releasing short creative spurts of "Art Therapy" really nourishes my creativity and helps it stay intact. While being locked down with limited inspirational resources, I look to create what comes to mind in mixed media format. I turn to watercolor painting, pencil, marker line art, and up-cycled wine bottles that I recreate into hand-painted vases. When anxiety and feelings of uncertainty are at its peak, using artistic expression is so insanely therapeutic for me. It helps me get through some of my toughest days at home here in India.
Mindful eating habits.
Being mindful of what I put in my body is particularly important to me right now. When I'm not fasting during working hours, I consume a diet of fresh fruits and vegetables that I purchase from the carts in my colony of South Delhi. Practicing mindful eating habits has helped me feel light, productive and focused during my days at home.
Online learning.
Since the COVID-19 lockdown, I've been yearning for some engaging deep dive courses to help me refine my entrepreneurial skills. After browsing through an assortment of lectures, I came across a 10-series course bundle called "10,000 Women" by Goldman Sachs. I recently completed my first class and it was AMAZING— highly recommended for my fellow female entrepreneurs. It really helped me to hone in on the areas that I need to brush up on in my business, and finding time to do so has been another challenge.  My mobility constraints during lockdown has allowed me to really sit down, focus and make some critical adjustments to my business model where necessary.
Mentoring design youth.
As of November 2019, I joined Pearl Academy Delhi & Noida Campus here in India to mentor Fashion Design students in the making of their final graduating collections. Since schools and universities have closed down due to the virus, we've transitioned pretty seamlessly to an online education portal. I virtually connect 2-3 days a week with my students to support their progress during these difficult times, offering my guidance where needed. I'm beyond grateful to have this opportunity— especially during lockdown, as it keeps me actively engaged with two of my most meaningful passions: fashion design and mentoring young aspiring designers.
These routines have managed to get me through the emotional and physical challenges of being in quarantine thus far. As the lockdown slowly detracts here in India, inching toward less restriction, I can honestly see the personal progression and growth that I've made during these past few months of isolation. The silver lining of it all being rest, rejuvenation, revival and reconnection to my purpose and passion- done with awareness, stillness and faith in moments of uncertainty.
Learning to value my peaceful mornings at home instead of rushing to the studio has allowed me to really sit down and think through ideas that I've been meaning to get to. My new ability to navigate through the day with a calm frame of mind has been life changing and I'am proud to say I took this lockdown as an opportunity to grow.
Instead of letting my quarantine lead me, I have lead it and I am eternally grateful for that.